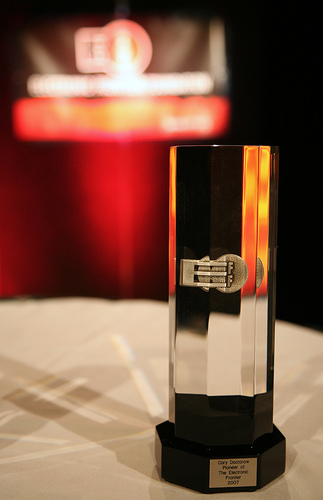 While this is a picture of Cory Doctorow's award, one like it is coming to Dr. Michael Geist, Canada's third such award winner!!!!

The Electronic Freedom Foundation's motto certainly epitomizes the words and deeds of this inspired Canadian "Defending Freedom in the Digital Age." He has caused many to know their freedoms in the digital age, reminding them of their rights, and in the ardent defence of them, inspires many to remember what freedom is and of the necessary fights to preserve it lawfully.

Congratulations and thank you Dr. Michael Geist.

Lawrence
PS Stephanie Perrin apears to be the first Canadian to achieve this honour. And DOH! Cory Doctorow number 2! Of course being a Canadian is a not exactly something too boasty but I did try to find out if Michael was the first.

Update: The EFF has replied to my query confirming Stephanie Perrin was the first Canadian winner.

"for her her instrumental

and long-term role in advancing understanding and protection of privacy internationally and in her home country of Canada."
(CC) Photo by Scott Beale @
laughingsquid.com
.